News
IsraAID CEO Yotam Polizer wins Charles Bronfman Prize
Yotam Polizer, the CEO of Israel's leading humanitarian aid organization, IsraAID, has been named the 2023 recipient of the Charles Bronfman Prize. The annual award is presented to a humanitarian whose work, informed by Jewish values, has significantly impacted the world.
Shalom Hartman Institute celebrates Bay Area Jewish peoplehood
The celebration highlighted Jewish thought and dialogue and featured an intimate conversation between Dr. Anita Friedman, President of the Koret Foundation and Executive Director of Jewish Family & Children's Services, and Rabbi Dr. Donniel Hartman, President of the Shalom Hartman Institute.
The Z3 Project returns in-person for its 2022 conference
Imagining a new Zionism for the 21st century The Z3 Project is an initiative of the Oshman Family JCC in Palo Alto, CA. Promoting a stronger relationship between Diaspora Jewry and Israel, the Z3 project is dedicated to modeling how Zionism can evolve, and how Jewish communities can come together for meaningful discussions about the […]
October 2022
|
San Francisco Bay Area
Israeli Philharmonic returns to Bay Area with young, energetic maestro Lahav Shani
The Israel Philharmonic Orchestra (IPO) will perform on Nov. 6 at Davies Symphony Hall in San Francisco and again the next evening at Bing Concert Hall on the Stanford University campus, after opening the tour with four performances in Southern California starting Nov. 2.
Honeymoon Israel: 20 couples, 1 incredible trip, a million memories
Honeymoon Israel is more than just a romantic trip to Israel. Read our story about a nice Jewish girl who meets a nice Muslim boy. They get married, and they decide to visit Israel with a group of other interfaith couples. We chatted with Jamie Schenk and Mohammed Nagda to hear details of their courtship, the families, and their memorable trip.
IsraAID partners with Ukrainian First Lady Olena Zelenska to provide trauma care
In partnership with Zelenska's national mental health initiative, IsraAid is sending teams of Israeli trauma specialists to Ukraine for several weeks at a time. Read the full story on eJewish Philanthropy.
Honeymoon Israel resumes trips after two years of pandemic delays
Two Bay Area cohorts went on trips in May, with more couples going later this summer. "As an interfaith couple, this trip was important to us to learn more about what it means to be Jewish and what traditions we want to carry forward or establish with our future family," said Tara and Alexander, a Bay Area couple who recently returned from their trip.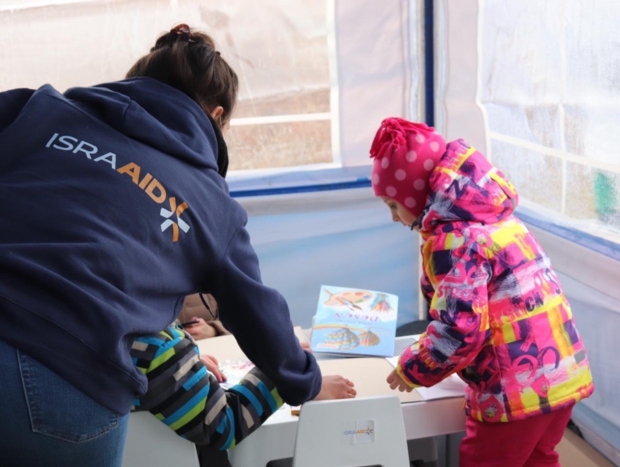 IsraAID launches Ukraine refugee crisis response in Moldova
IsraAID's "safe space" for mothers and families on the Ukrainian-Moldovan border provides essential hygiene supplies to refugee families, and gives children a safe place to play and be kids, which is crucial after a harrowing journey and for processing trauma. More than 97,000 refugees have crossed from Ukraine into Moldova, according to the UN Refugee Agency.
IsraAID coordinates evacuation of 167 vulnerable Afghan nationals
125 vulnerable Afghans arrived in Albania after being evacuated from Afghanistan to a neighboring country following a weeks-long collaborative humanitarian effort from IsraAID alongside governments, aid organizations, activists, and donors. This is the second evacuation from Afghanistan the group has coordinated, following the arrival of 42 vulnerable women, girls, and family members to the UAE on September 6th. Read our grantee story to learn more about IsraAID's work globally:
IsraAID launches COVID-19 vaccine program in Eswatini
A volunteer reflects on her experience as part of IsraAID's humanitarian mission to Eswatini supporting the country's COVID-19 vaccine rollout. IsraAID's full program there takes a holistic approach to COVID-19 response, leveraging Israeli solutions and lessons learned to date.