Israel at 75: The Wonder of a Jewish State
Israel at 75: The Wonder of a Jewish State
Chapters:
Supporting Israel has been a pilar of the Koret Foundation since our earliest grantmaking in 1979. As a homeland for the Jewish people, Israel and its story is linked with that of Diaspora Jews. Today, as a beacon of democracy and innovation in the Middle East, Israel and its future is intertwined with that of the region and, indeed, the modern world. Koret's grantmaking focuses on strengthening relationships between Israeli Jews and Diaspora Jews, as well as expanding connections between the U.S. and Israel. We fund educational exchanges, collegial collaborations, and institutional partnerships. Koret is privileged to engage in open dialogue with our Israeli friends, learning from their lived experiences and diverse perspectives.
As we commemorate 75 years since the founding of the State of Israel, we recognize that Israelis are dealing with a profound internal crisis. To both contemplate and celebrate this milestone, we invited leaders of Jewish organizations in North America and Israel to share their thoughts. They reflected on what Israel represents to them, what they hope for the country's future, and how the Foundation can contribute to upholding Israel as a "light unto the nations."
Jeff Farber
Jeff Farber joined the Koret Foundation as its CEO in 2005. His civic and philanthropic leadership activities span numerous roles in both the general and Jewish communities. He is a past chair of AIPAC of Northern California.
"Having traveled to Israel regularly ever since I was a young man, I continue to be amazed that there is a country strong enough to protect and defend a homeland for the Jewish people. As the country developed, Israel's achievements and accomplishments in innovation, health, technology, and the arts have become a source of great pride for American Jews, as well as Israelis. Despite all the challenges Israel is facing, I have never felt more committed to ensuring a strong U.S.-Israel relationship."
Dr. Daniel Gordis
Dr. Daniel Gordis is the Koret Distinguished Fellow at Shalem College. He is an internationally known author, columnist, and lecturer on Israeli society and American-Israeli relations. Dr. Gordis helps guide students to shape a "strong, Jewish, and democratic future for their state."
"As we see in Israel today, we are still wrestling with what Jewishness—and the Jewish state—should be. As frightening as these times may be, they are filled with rich potential for even richer conversations about what kind of state we wish to be. For me, the profundity of living in Israel stems from our country's being a laboratory in which we reimagine Jewish life for the twenty-first century and beyond. Now, Jews speak the language of their ancestors, the language of the Bible. Jews no longer nervously watch the horizon waiting for the next attack, or after the attack, being powerless to do anything other than to hope and pray that another does not come too soon. No longer do Jews live with the worry that their invitation to live where they do will run out."
Dr. Mijal Bitton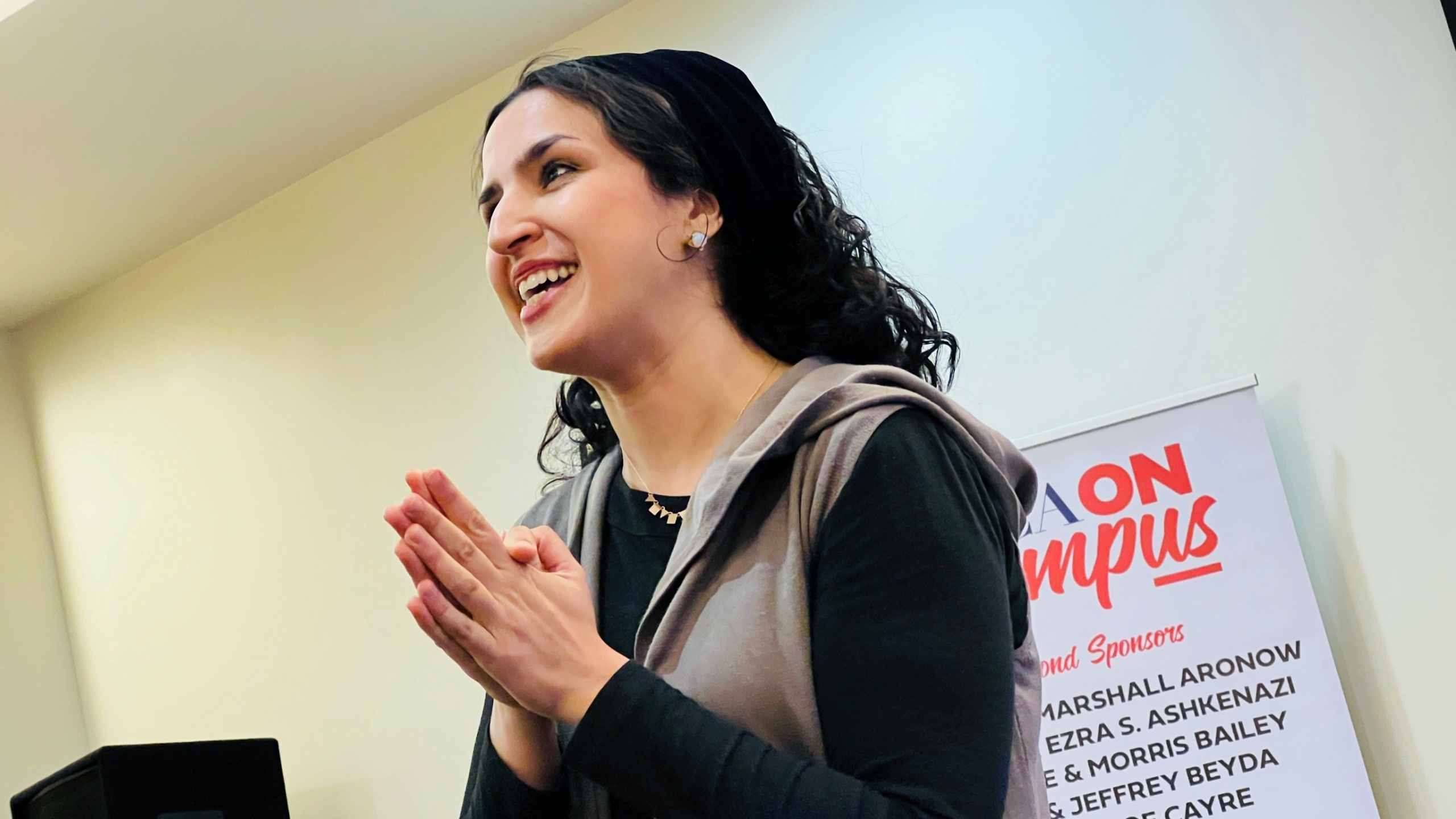 Dr. Mijal Bitton is a teacher, writer, and leading thinker on questions relating to Jewish American identity, pluralism, gender equity, and sociological diversity. She is co-founder and Rosh Kehilla (communal leader) of the Downtown Minyan in New York City, and a former Scholar in Residence at the Shalom Hartman Institute of North America.
"Israel is home. It is where I feel most alive, where the streets pronounce my people's history and the mountains recount the Psalmist's prayers. It is the land that inspired my mother to immigrate by herself from Melilla—an autonomous city of Spain in North Africa—when she was just 13. It is the most magnificent story of national rebirth and the most familiar subject for the bedtime stories I tell my children. It is a beautiful mess filled with contradictions and zealotry and yearnings. It is in my daily prayers—that God should protect its people, help them flourish, and guide their moral aspirations. Israel is home."
Zack Bodner
Zack Bodner is the chief executive officer of the Oshman Family Jewish Community Center in Palo Alto. Since 2015, he has advanced the Center's Z3 (Zionism 3.0) initiative, creating opportunities for meaningful discussions about the Diaspora and Israel. He hopes to further a "new model of Jewish engagement in the 21st century" at other Jewish forums.
"Israel is the beating heart of the Jewish People. When the modern state of Israel was founded in 1948, Jews were able to return to our ancestral homeland after 2000 years of exile, with our heads held high. Today, Israel is the wellspring of Jewish hope, the beacon of Jewish pride, and the greatest symbol of Jewish strength for all Jews around the world. The first 75 years of Israel's existence have been the manifestation of a universal solution—nationhood and self-governance—to a Jewish problem (facing antisemitism as a minority population). My hope is that the next 75 years will see the implementation of Jewish solutions to universal problems, with Israel at the forefront of that holy work."
Dr. Youval Rotman

Dr. Youval Rotman is chair of the Chaim Rosenberg School of Jewish Studies and Archeology at Tel Aviv University. He is also part of the leadership of the Koret Center at ANU.
"My hope is that Israel will keep its character as a vibrant, democratic, vital and diversified society, and that it will harness it to become a just society that advances tolerance, peace, equality and progress. I wish that the current political crisis will not change Israeli democracy that reflects and preserves the plural aspect of Judaism. I hope that Israel becomes once more committed to a peace process with its neighboring countries, especially with the Palestinians as equals, since internationally defined and recognized borders are of the essence for the internal stability of such a small state. Israel was built on the notion of social solidarity."
Naama Klar
Naama Klar directs the Koret International School for Jewish Peoplehood at ANU on the campus of Tel Aviv University. One of her priorities, and pleasures, is speaking to students, other educators, and visitors interested in learning about the concept of Jewish peoplehood.
"I want to see Israel's Jewish identity become deeper and more widespread: Israeli Jews embracing their Jewishness in the wider sense and not just as a religion or nationality but rather seeing themselves as a part of the global Jewry. Israel as the national homeland is a pillar in the Jewish peoplehood approach. Israel is always a part of the story: It is the house, and the walls, of our family—even if we are currently living outside of its walls. Israel strengthens a meaningful and continuous existence of the entire Jewish people and not just those who live in Israel. Today, we have to reestablish the connections between Jewish people wherever they are, and we have the next 75 years to do so!"
J.J. Kimche
J.J. Kimche, an alumnus of Shalem College, is now a doctoral student at Harvard University, where he is studying modern European philosophy and modern Jewish intellectual history. He participated in the Shalem Jewish Peoplehood Project that brings Shalem students to the Bay Area to better understand Jewish life in the Diaspora.
"For me, one of Israel's greatest contributions to the world is its demonstration that an embattled state need not be an unproductive one. Since its very inception, Israel has been constantly engaged in desperate wars of survival on every front. Yet Israel's phenomenal economic resurgence; its position as a technological, medical, and mercantile powerhouse; its towering centers of learning; and its burgeoning cultural scene all attest to its remarkable ability to develop multiple sectors simultaneously, despite the inescapable shadow of war. Having spent years in both the military and academic sectors of Israeli society, I have personally witnessed the extraordinary investments that are made every day to bolster both the strength and the spirit of the Jewish state."
Yotam Polizer
Yotam Polizer is the Global CEO of IsraAID, Israel's leading humanitarian NGO. He has commented that in many situations—in addition to responding to crises, disasters, and other emergencies—IsraAID teams include the first Jews that the people they are helping have actually met.
"My hope is that Israel will continue to share its incredible technology, innovation, and social impact with the world's most vulnerable communities. Israel can, and should, become a leading force for good in tackling humanity's biggest challenges: climate change, forced migration, diseases, and conflicts. In much the same spirit as IsraAID collaborates with communities at the deepest level—regardless of politics, religion, and ethnicity—working together for as long as it takes, Israel can be capable of contributing to the planet and its inhabitants, as a global player for the common greater good."
Israelis have accomplished much in their country's first 75 years. In addition to establishing itself as an innovator in healthcare and technology, Israel has earned the distinction of fourth place in the World Happiness rankings. In the next 75 years, Israelis will continue to work toward the ideals of freedom, justice, and peace. Koret will continue to champion our shared Jewish homeland, creating opportunities to build bridges between the world's two largest Jewish communities.