News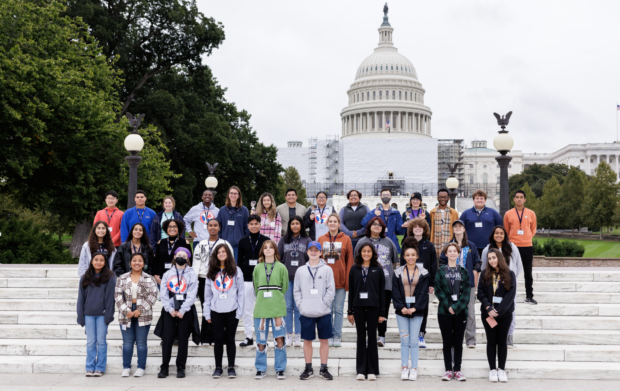 iCivics: Educating the next generation to participate in American democracy
Louise Dubé, Executive Director of iCivics Civic knowledge, understanding, and discourse across the US are in crisis. Explanations and accusations abound about the origins of the problem, but there is consensus on one essential point: Generations of students have not received the education in history and civics needed to prepare them for informed and engaged […]
July 2022
|
San Francisco
KQED's Media Literacy Educator Certification wins NAMLE award
The National Association for Media Literacy Education (NAMLE) has selected KQED's PBS Media Literacy Educator Certification for the 2022 Media Literate Media Award. The award recognizes outstanding contributions to media literacy made by media professionals with national reach.
JUMA: It starts with a job
Have you ever ordered a drink or a snack from your seat at the ballpark? Chances are good that your order was delivered with a smile by a Juma team member. Read our story about who these young people are and how Juma helps them gain job experience and self-confidence.
February 2022
|
San Francisco
Cal Academy's internship program honored with Presidential Award for Excellence
The California Academy of Sciences is one of just three organizations this year to be awarded the Presidential Award for Excellence in Science, Mathematics, and Engineering Mentoring (PAESMEM) for its Careers in Science program.
Bay Area Discovery Museum reopens with new exhibits and spaces
BADM has unveiled five new exhibitions and playspaces geared toward children under the age of 10. The spaces, which opened following the museum's $20M BOLD capital campaign, are based on the cutting-edge research in childhood development to inspire creativity and exploration. Exhibits include the a new climbing structure Gumnut Grove, and new exploration spaces called How Things Work which, Try It Studio, and a new Tot Spot.
NMSI creates tools and resources for school recovery
As a leader in K-12 education, the National Math & Science Initiative (NMSI) has created a series of webinars and a new workbook for using COVID relief funds to help teachers, school administrators, superintendents, and school boards navigate road to recovery that lies ahead.
March 2021
|
San Francisco
Commonwealth Club discusses Educating for American Democracy
Educating for American Democracy is a bipartisan, multi-sector effort to reinvigorate the teaching and learning of American history and civics in schools. The Commonwealth Club will livestream a conversation with leaders of this effort about why the country needs a renewed commitment to history and civics education. This program is part of Creating Citizens, Commonwealth Club's new civics education project, founded with Koret support.
February 2021
|
California
California's ethnic studies model curriculum moves to the next phase
The California Ethnic Studies Model Curriculum (ESMC) is currently under review. The new ESMC will be used as the model curriculum for high schools across California and could ultimately be adopted across the nation. The Jewish Community Relations Council has worked tirelessly and in partnership with other Jewish community organizations to help build a balanced and inclusive ESMC. The third version of the curriculum will be reviewed for approval by the California State Board of Education this March.
October 2020
|
Hayward, CA
Hayward's summer math program puts students on a path to advancement
Mid-way through a three-year project with the National Math and Science Initiative (NMSI) funded by Koret, leaders at the Hayward Unified School District identified a gap in the number of students reaching AP math by senior year. Working with their NMSI team, they developed a new a summer program, Geometry for Acceleration, that has put nearly 100 high schoolers on a path to advanced math and college readiness.
April 2020
|
San Francisco
San Francisco YMCA offers free pop-up camps for children of essential workers
Amid the COVID-19 pandemic, the San Francisco YMCA has opened four free pop-up camps that serve 100 children of essential workers with jobs in hospitals, grocery stores, and the police.