News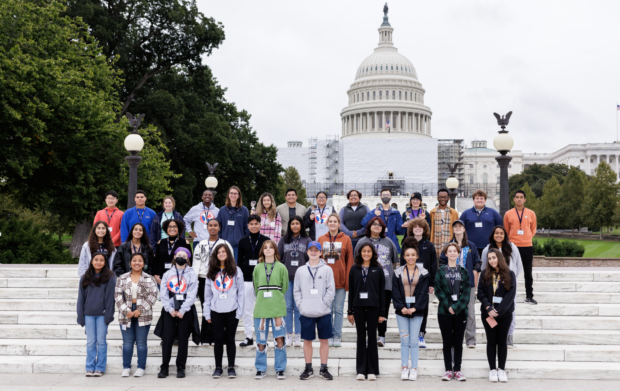 iCivics: Educating the next generation to participate in American democracy
Louise Dubé, Executive Director of iCivics Civic knowledge, understanding, and discourse across the US are in crisis. Explanations and accusations abound about the origins of the problem, but there is consensus on one essential point: Generations of students have not received the education in history and civics needed to prepare them for informed and engaged […]
Meet the Horticulturists: Jason and Pat
Get to know the garden experts that make our parks beautiful Jason Martinez and Pat Quinn are gardeners and horticulturists for the San Francisco Recreation & Parks Department. They met when they were both working at the SF Botanical Garden, and have each been with Rec & Parks for over 20 years. We asked them […]
Honeymoon Israel: 20 couples, 1 incredible trip, a million memories
Honeymoon Israel is more than just a romantic trip to Israel. Read our story about a nice Jewish girl who meets a nice Muslim boy. They get married, and they decide to visit Israel with a group of other interfaith couples. We chatted with Jamie Schenk and Mohammed Nagda to hear details of their courtship, the families, and their memorable trip.
JUMA: It starts with a job
Have you ever ordered a drink or a snack from your seat at the ballpark? Chances are good that your order was delivered with a smile by a Juma team member. Read our story about who these young people are and how Juma helps them gain job experience and self-confidence.
Blending Holocaust testimony with music and technology
"The Children of Willesden Lane" is a true story. It begins in Vienna in 1938, when it quickly becomes dangerous to be Jewish. The heroine of the story is a young girl named Lisa Jura, who dreams of becoming a concert pianist. Her family is Jewish, and her parents are able to secure her a […]
Stanford Live: Collaborating and building community in the performing arts
Supporting arts organizations and cultural institutions has always been part of the Koret Foundation's commitment to strengthening the Bay Area community. The pandemic put a hard stop to live performances for over a year, but also inspired innovation and collaboration. We recently caught up with Chris Lorway, executive director of Stanford Live, a longtime Koret […]
Koret Scholars: Persisting in college through a pandemic
Supporting institutions of higher learning has been a priority of the Koret Foundation since our founding. The Koret Scholars program, established in 2016, provides needs-based scholarships and other support to college students across the Bay Area who face the most barriers to college completion: low-income students, underrepresented minority students, and those who are the first […]
Improving outcomes for children with leukemia
The Weizmann Institute of Science in Israel and the Lucile Packard Children's Hospital at Stanford University are pooling their expertise and resources to develop targeted, personalized treatments for children with leukemia. The disease is usually successfully treated with chemotherapy, but about 20 percent of patients subsequently relapse. Many of these children do not survive. Some […]
Harnessing the potential of bioinformatics
Bioinformatics involves developing algorithms and computer software to record and analyze biological data. This young field holds enormous potential for introducing an era of personalized medicine to treat diseases from cancer and diabetes to Alzheimer's and Parkinson's. To advance this goal, Tel Aviv University (TAU) and UC Berkeley (UCB) are conducting collaborative research to develop […]
Hunting for predictors of neurodegenerative diseases
Tel Aviv University (TAU) and Stanford University School of Medicine's Department of Biomedical Data Science are collaborating to identify biomarkers in the earliest stages of four neurodegenerative diseases that have thus far proven basically unstoppable: Alzheimer's, Parkinson's, ALS, and Huntington's. The prevalence of these devastating diseases continues to increase, and research to date seems to […]
Preparing for widespread trauma and emergencies
The Rambam Health Care Campus (Rambam), located in Haifa on the Mediterranean coast, is collaborating with Stanford University's Department of Biomedical Data Science on a broad range of projects. These collaborations have rich potential for advances both in digital health and in big data analysis. Rambam brings first-hand experience through its Center for Trauma, Emergency […]
U.S.-Israel Partnerships: Accelerating medical innovation
One way to strengthen the U.S.-Israel relationship is by developing new approaches—learning with and from each other—to solving some of the world's toughest health challenges. San Francisco Bay Area universities are drawing on their traditions of distinguished scholarship to forge the cutting edge of data science and analysis. Israeli scientists have relatively quickly garnered international […]