News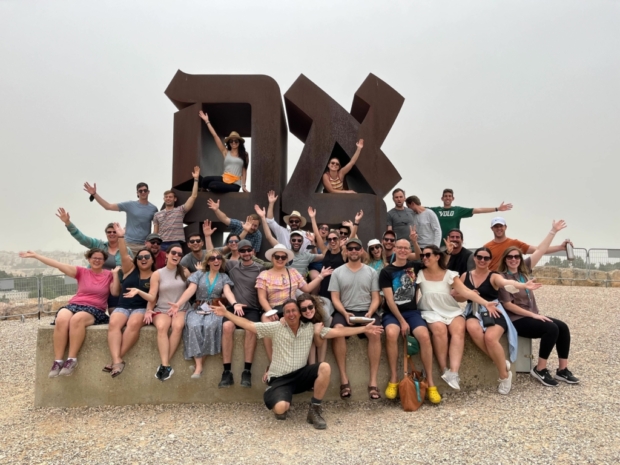 Honeymoon Israel resumes trips after two years of pandemic delays
Two Bay Area cohorts went on trips in May, with more couples going later this summer. "As an interfaith couple, this trip was important to us to learn more about what it means to be Jewish and what traditions we want to carry forward or establish with our future family," said Tara and Alexander, a Bay Area couple who recently returned from their trip.
July 2022
|
United States
Jewish Story Partners announces spring 2022 grantees
Jewish Story Partners, a Los Angeles-based non-profit film funding organization, announced its third round of grantees today, with $468,000 in new grants distributed among 16 projects. The films traverse a rich variety of Jewish experiences, among them powerful stories from award-winning filmmakers like Michel Franco, Tia Lessin and Carl Deal, Julia Mintz, Pierre Sauvage, Jason Osder, William Youmans, and Joshua Zeman.
Blending Holocaust testimony with music and technology
"The Children of Willesden Lane" is a true story. It begins in Vienna in 1938, when it quickly becomes dangerous to be Jewish. The heroine of the story is a young girl named Lisa Jura, who dreams of becoming a concert pianist. Her family is Jewish, and her parents are able to secure her a […]
Director hopes Rywka's story inspires exhibit visitors and motivates them to be involved
Prior to the official opening of The Girl in the Diary Exhibit – Search for Rywka from the Lodz Ghetto at the Karpeles Manuscript Library in Buffalo on Jan. 27, 2022, Jakub Nowakowski, director of the Galicia Jewish Museum in Krakow, answered a few questions for the Am-Pol Eagle. Read the full interview below:
December 2021
|
United States
Willesden Lane Project: The power of music in education
The Jewish Journal published a spotlight of The Willesden Project, Koret's global initiative with USC Shoah Foundation and Hold On To Your Music. Read the full article to learn more about Koret's Holocaust education work.
The Saga of Rywka's Diary: Giving voice to an ordinary girl in extraordinary circumstances
Ensuring the continuity of Jewish peoplehood has always been one of the Koret Foundation's priorities. Central to our commitment is preserving and honoring the history of Jewish communities. We first wrote in 2017 about the discovery and publication of Rywka Lipszyc's diary and the museum exhibition it inspired in Kraków. The exhibition is now traveling […]
November 2021
|
United States
Jewish Story Partners commits $500,000 in new grants to Jewish filmmakers
Jewish Story Partners (JSP), the rapidly growing, Los Angeles-based non-profit film funding organization, announced its second round of grantees today. This new slate brings JSP's 2021 granting total to $500,000, distributed among 27 projects. JSP supports the highest caliber independent films that use fresh, nuanced perspectives to tell stories about the diverse spectrum of Jewish experiences, cultures, and encounters.
November 2021
|
San Francisco Bay Area
The Healing Power of Music
As educators continue to move through this time of uncertainty and loss, they are seeking ways to support students. This special program of The Willesden Project, the Koret supported global education initiative, will bring the power of music, story, and testimony to young people globally as it reshapes Holocaust education and fosters resilience in youth.
IsraAID coordinates evacuation of 167 vulnerable Afghan nationals
125 vulnerable Afghans arrived in Albania after being evacuated from Afghanistan to a neighboring country following a weeks-long collaborative humanitarian effort from IsraAID alongside governments, aid organizations, activists, and donors. This is the second evacuation from Afghanistan the group has coordinated, following the arrival of 42 vulnerable women, girls, and family members to the UAE on September 6th. Read our grantee story to learn more about IsraAID's work globally:
October 2021
|
California
Redesigned IWitness site meets evolving needs of educators and students
USC Shoah Foundation launched a redesigned IWitness website, reimagined to make teaching with testimony more effective, approachable, and cutting-edge.